UPGRADE TO HTTPS
Upgrade your WordPress site from http to https at no cost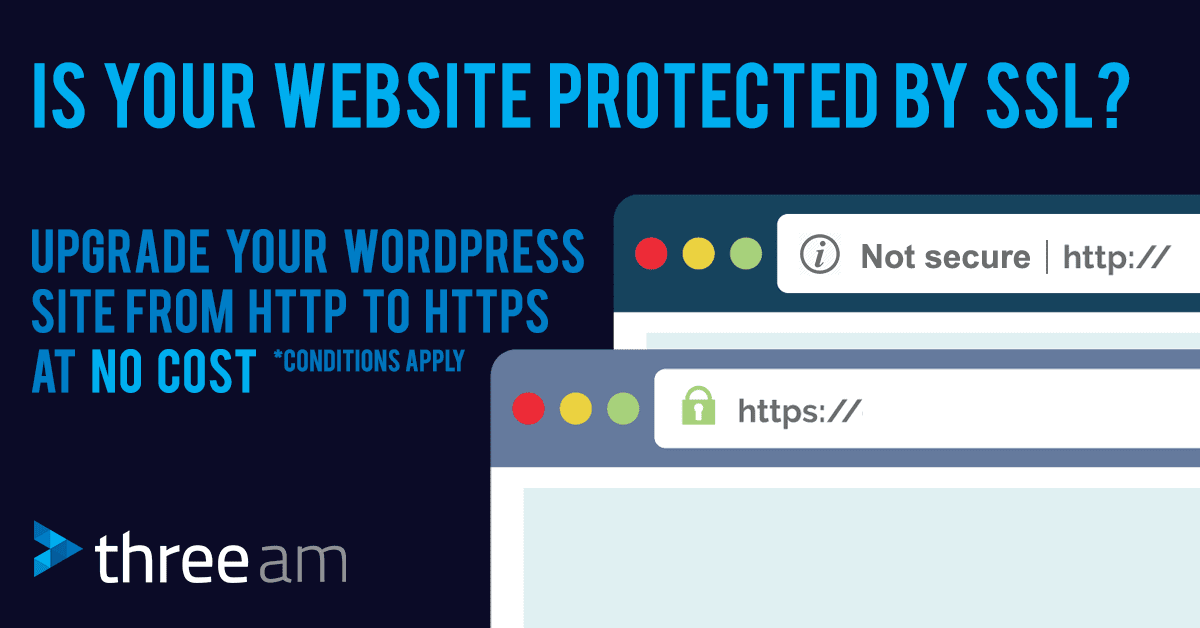 Did you know that if not properly secured, any data transmitted (like passwords and customer information) can be easily intercepted? Did you know that Google penalises sites that are not running off https?
We are on a mission to rid the web of non-secure websites, so Three AM are now offering NO COST upgrades to WordPress sites, for businesses following #NetworkProspect.
Your business may qualify for this promotion provided you fit our eligibility criteria:
your website is built using WordPress, and you are willing to provide a WordPress username and password
your webhosting supports AutoSSL (Crazy Domains does not!)
your webhosting is cPanel based, and you are willing to provide the cPanel username and password
your business is located within (or close to) the Prospect area
you are following the #NetworkProspect Facebook page
For businesses that qualify, we will perform the following:
Set your website to utilise your webhosting provided AutoSSL. If AutoSSL is not available, we will install a free LetsEncrypt SSL
Setup forced-ssl – this means if someone attempts to access the http version of your site, they will automatically be redirected to the https version
Remove as many 'mixed-content' warnings as possible. 'Mixed-content' warnings are where your https secured website is trying to load files such as images, media or script files via http. We will hunt down any http linked files and change them to https
Provide an audit of recommendations for future improvements to your site – this may include performing updates to the WordPress core, content or functionality changes, or visual improvements.
Terms and Conditions:
Your website/business must meet all of our eligibility criteria, as outlined on this page
The terms of this promotion may change at any time, without notice
This promotion currently is open until July 31 2020. We reserve the right to extend the promotion beyond this date, or end it earlier
Depending on how your website is coded, it may be feasible to resolve all 'mixed-content' warnings. If this is the case, we will provide costings for removal of the ones that cannot easily be removed.