AUSTRALIA'S NEW .AU DOMAIN NAMES ARE HERE!
We're excited to let you know that as of 24th March 2022 you will be able to register your brand new .au direct domain name – like threeam.au.
.au direct is a shorter, simpler domain name extension for the Australian domain namespace. It will allow any business, organisation or individual with a connection to Australia the ability to register a .au direct domain name whilst providing the following benefits;
All-Australian – Trusted by Aussies, the new .au direct couldn't be more Aussie if it tried.
Relaxed Requirements – .au direct domains do not require an ABN – they simply need a connection to Australia.
Memorable – .au direct is a quick and snappy way to end any URL, and it will provide more opportunities for any business to create a domain name that customers can recall from memory.
Easy to Use – .au direct provides a more effortless experience when typing in the address bar, whilst showing your website visitors that you're trustworthy with a verified Australian domain name.
KEY DATES:
February 4, 2018:
Domains registered before this date are considered Priority Category 1. Domains registered after and considered Priority Category 2
March 24, 2022:
.au Direct Domains Open
September 21, 2022:
Priority allocation period ends
October 4, 2022:
.au domains released from priority hold and available to the public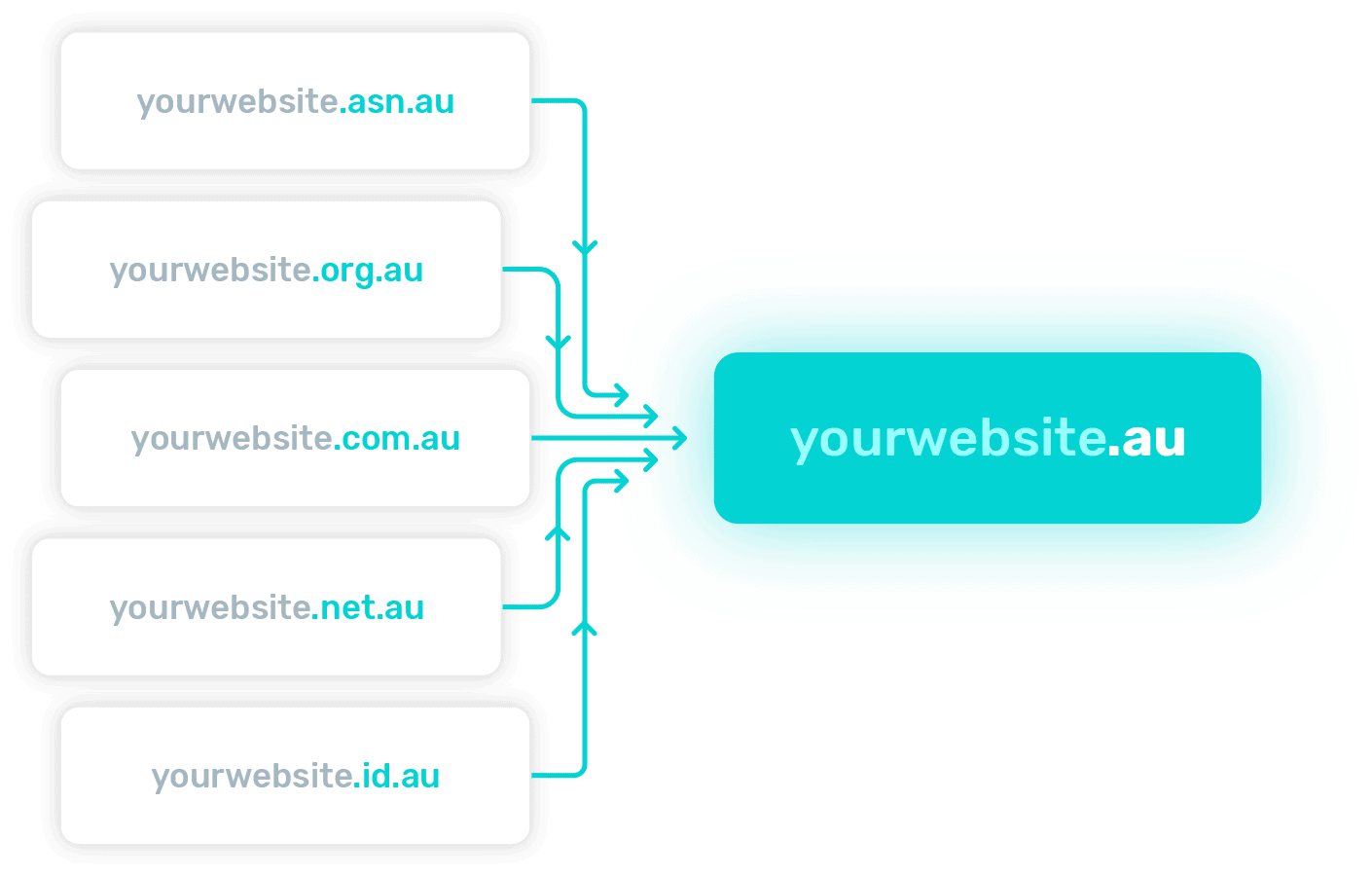 ALREADY HAVE A .COM.AU?
WHY BOTHER WITH A .AU?
If you already have an established site using a .com.au domain, there are several reasons you should consider getting a .au domain in addition to your .com.au.
BRAND PROTECTION
We believe in the future, that .au domains will be the default choice for Australian businesses, given that it's 4 characters shorter and is still obvious that its an Australian business. .AU domains will be snapped up quickly, and given that there is no ABN requirement, its possible that domain hoarders will be purchasing these in bulk, in order to sell them back at inflated prices to legitimate businesses. Competitors may also purchase the .au of your domain, and point it to wherever they like, which makes a good argument for brand protection.
FUTURE USE
You may not wish to use your .au domain now, but for the small expense, it's worth having incase in the future you wish to use it. If someone else registers it, it may be gone forever.
SECONDARY WEBSITES OR LANDING PAGES
Consider you have a new product launch coming up, and you want to create a specialised landing page for it. Your current .com.au might be too long for effective advertising of your URL, so you may wish to use a shortened version of it, either as a standalone URL (productname.au) or a subdomain (eg productname.yourbusiness.au)
MAKE THE SWITCH PRIOR TO ADVERTISING INVESTMENT
You can add a .au address and simply redirect it to your regular.com.au address, or you may choose to dive right in and switch your primary address to a .au. The downside to this is that you may have a slight drop in SEO rankings, and you may need to update any existing advertising collateral. If you are considering in investing into SEO or traditional marketing or advertising, it might be worth considering making the switch to a .au address as your primary address now. We can assist with setting up redirects so that any old .com.au address automatically redirects to the .au version, which will help soften the search engine rankings blow.
Registration/Renewal Pricing
Three AM will offer .au direct domain name renewals at our standard price of $30+GST per year. There is no registration fee, however there may be some costs incurred if we need to facilitate a contentious domain.
Registering new .au direct names
From 24th March 2022, where there are no existing variations of a .au domain name you wish to purchase, the .au direct can be registered straight away.
The available domain names will be open to the public on a first come, first served basis.
Registering the exact match of an existing .au domain name
All existing domain name holders (.com.au, id.au etc.) will have until 20th September 2022 to submit their application to claim the matching .au version of the domain.
Depending on the domain name you intend to register, you'll fall into one of two categories;
Only one matching domain name exists – If there is only one existing name, the holder of that domain has until 20th September 2022 to claim the .au direct. If they claim the domain it will be registered immediately, otherwise, it will become available to the public after 20th September 2022.
Multiple matching domain names exist  – Any contested domain names will open up to a priority allocation process for existing .au registrants. Registrants of existing .au names will have six months from 24th March 2022 to apply for Priority Status – should they wish to register the .au direct match of their name.
Existing domains will fall into either 1 of 2 categories, Priority 1 and Priority 2.
Priority 1 are domains that have a creation date on or before the Priority Status cut-off date of 4 February 2018.
Priority 2 are domains that have a creation date after the Priority Status cut-off date of 4 February 2018.
Find out more information on the AUDA website.
See the AUDA process flow below to help understand how the priority allocation works: